To: Bill Brock, Monroe City Manager
From: Chief Bob Buchanan
Date: 10-18-18
Subject: Report on armored vehicle for the police department.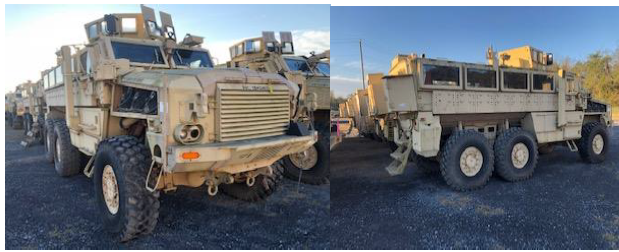 Last week the police department was notified by the Ohio Law Enforcement Support Organization
(LESO) that there were MRAP armored vehicles available for evaluation. These vehicles were located
at a DRMO (Defense Reutilization and Marketing Office) facility in Chambersburg PA. Officer Josh
King has been working with representative of LESO the last year in a half on acquiring armor for
the department. We have had applications in with LESO for both MRAP and "Up Armored" Humvee
vehicles. These MRAPs are the first vehicles that we have been notified that are available. There
are no "Up Armored" Humvees available. Our LESO Representative recommended that we look at two of
the MRAP's, one for use and one for parts. The justification behind this is that
because these vehicles are being phased out of the military's normal use they do not have to be
turned back in to the LESO program in the same condition that we receive them.
Having a second vehicle that is full of parts allows us to pull these parts without the cost of the
parts.
Officer King traveled to Chambersburg, along with local resident Mike Tilton. Mike is a recent
retired Army Veteran who worked as a mechanic for the military and is very familiar with the MRAP
vehicles. Two vehicles were located and based on Mr. Tilton's evaluation, they are in very good
condition with all parts available. These two vehicles have been submitted by our LESO
representative and are now on hold for the City of Monroe. The paperwork will take about a week to
process and then we would have fourteen days to claim the vehicles.
The way that this works is these vehicles have been stripped of the extra armor plating, which we
would not need, as well as batteries and engine and transmission fluids. The
pictures above are the actual vehicles. A couple of items to point out is that there is no
way to start these vehicles until we bring them back and put the batteries and fluids back in to
them. This is a little bit of a gamble, but Mr. Tilton assures us that all of the engine parts are
there in each vehicle and my own understanding of the meticulous maintenance programs that our
military requires, I am confident that the vehicles will run with no issues. It should be noted
that the turrets on top would have to be removed, as they are not authorized for our use based on
the program's guidelines. This is not an issue for us.
The City's costs would be the transportation of these two vehicles back to the City as well as the
batteries, and fluids that would be needed to start the vehicles up. We have obtained several
quotes for the transportation services with the low quote being $5,000.00 from Sandy's towing to
haul both of these vehicles for us. We estimate an additional
$750.00 to $1,500.00 for the batteries and fluids to bring the vehicle on line. The police
department has these funds within our current budget. We will not be able to provide
accurate estimates on the cost to paint one of the vehicles until we get it back to our area.
The Police Department's Tactical Team members have been working very hard to prepare
to provide tactical operations for the city. Without the protection of an armored vehicle,
they cannot provide those operations when needed. It is my opinion that this vehicle
provides the necessary equipment that the officers need in the most cost effective option
available. Considering that an armored vehicle is around $250,000 to $400,000, not
including maintenance fees, Having an armored vehicle with a complete set of parts will
more than pay for the transportation and annual maintenance costs.